---
As I'm writing this, I have my cat Reinfeldt sitting beside me. He's purring so much I wonder if he'll create an earth quake from the purring. Reinfeldt is one of the smallest cats, and very thoughtful about everything. I love just watching him when he sees me typing on my keyboard, holding my little finger with his paw and always trying to type something too. I took a photo of him~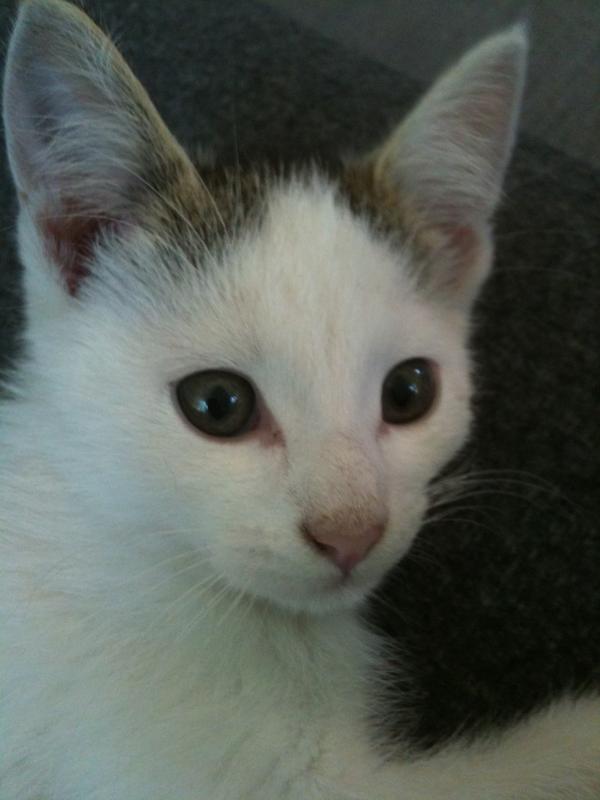 He's a very polite cat, believe it or not lol.
So my week has been good. I've had a lot of stuff going on, although I don't really have time to write everything down. Writing these blogs does take a lot of time, so I can't write about my whole week, no matter how much I want it. (Don't be afraid to leave feedback on the blog. Too long? Too short? Too many or too less pictures? If anything's on your mind, don't hesitate
)
My weekend was great, and as usual I was just messing around, chatting with people. A friend of mine from school (who's work has been featured earlier in this blog) is someone I chat with a lot. We always have the most random convos and it's so much fun! He's 'TheMagicalPot' in the online community (he doesn't play LBP). Well anyways, he has made this list of totally random sentences for a game he's making (programming and such). Here are the sentences:
• Bunny is my profession
• Logic originated in candy
• Bananas can predict the future
• Hyenas can give you documented shivers
• Meatloaf causes earthquakes
• Most CD-ROM disks are square shaped
• The key to success is made of iron
• Don't eat your insurance contract
• The chicken never ate your spaghetti
• It is never a good idea to purchase eggs from a fruit stand.
• I like internal conversations
• I wonder if you have to keep it warm
• Neglecting transparent monstrosities is vital for our future
• Grashopper's Slam of the Warped Fang
• Not to be confused with Pink Slime
The sentences are based on totally random conversations, don't ask me where all of them are from.
It's always fun to read totally random sentences like that, and just so you know, they are not meant to mean anything (almost like saying "It took an arrow to the knee").
We had this great English class in school last Monday and we were just basically sitting, discussing the internet. We got on the topic of trust and of emails and eventually of spam. Since I knew that spam actually is a type of ham lots of people used to eat (and still eat) (which no one other than me and the teachers knew), everybody just laughed and we had such a great time. I knew about the ham cause of the april fools joke we reporters made this year. We all changed our names to something "spammy". I was for example 'Put's Personal Spam-bot' and had the signature of a lot of random stuff.
omegaCarotene
even made us our personal spam-bot profile pictures lol! Here's mine
I got to know a new part of the story how spam the ham became something we use in the meaning of "Junk mail". The spam was only in the meaning of the ham till Monty Python came with this random clip~
It reminds me of another hilarious video called "
Can your pet?
" which I saw this week (by pewdiepie of course). Check that out for a laugh
Pewdiepie has also been playing this game called "To the moon" (which I definitely recommend for you to check out since it's so beautiful and funny).
Here's a playlist on youtube for it
.
However, there's a song at the end that has come to mean a lot to me with the lyrics; "If you're with me, then everything's alright"
I'd love for you to listen to it
(Whow, I got lots of links this entry lol)
Next thing I'd love to bring up is this week's level recommendations.
First one to recommend is called 'The lost world (Platformer)' by Bruttus. The level got me mesmerized from the beginning. The amazing visuals made it clear why it had gotten a fancy Mm pick.
I felt like I got a bit closer to the nature with the many flowers, leafs and mushrooms popping out from the ground. Beautifully colored dinosaurs came in my way along the caveman-themed platformer adventure.
Haha! The second level picked is called Coffee Stains by
Kaboosh99
. The level is a must-check-out and I had so much fun playing it! The level is a though plattformer, which you have to react quickly on. I died SO many times, although I had a hilarious time while doing just that. Oh, and at the end, there's a stopwatch. My time was 07:06. Can anyone beat me?
I've so been wanting to draw lately, but I'm not given enough time to do so. I got some time to draw this week at least.
We've been doing self portraits in school for the past three weeks. I made this one in about 2,5 h.
Here's a link
to the original picture that I took in class of me, and below the drawing I made in class.
(Or at DA)
I also made myself a new avatar (As you've probably noticed by now lol, but here's the full body one anyways
).
(Or at DA)
Thanks for the read
DeviantArt | Twitter | Soundcloud | YouTube | lbp.me
~ ~ ~
Don't forget to comment!
--2
4

Comments On This Entry
Trackbacks for this entry [ Trackback URL ]
0 user(s) viewing
0 Guests
0 member(s)
0 anonymous member(s)